Veronique Jonas was born in the Belgian Congo, after her parents emigrated from the Greek island of Rhodes. The family relocated to South Africa, where Jonas went to college. She moved to the U.S. in 1982. For the past 18 years, Jonas, who lives in Dallas, has taught art, while pursuing her painting and designing ketubahs, Jewish marriage contracts. She has shown her work widely including a solo exhibition at Art in Encounter, Dallas, at the Canton Museum of Art, and the International Yitzhak Exhibition, Akko, Israel.
Jonas creates spaces for memory to inhabit. She depicts ruins, architecture, and dream-like street scenes full of bittersweet nostalgia. Working patiently, she rebuilds memories of places haunted with a communal life that is all but gone. But the past is unquiet and insists on being seen and heard as photographic vignettes of family and community. Jonas paints in the language of realism. Faith requires she show the beauty of the shadowed streets graced by bougainvillea, the blessings of the bright blue skies, the sweetness of life once sheltered there–and to show the phantoms who live on, if only in sacred remembrance. Continue reading →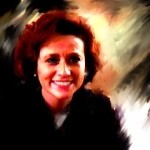 Julie was born in Israel to parents who had emigrated from Hungary. The family moved to the U.S. in 1964. Meetal graduated from the Fashion Institute of Technology in New York and worked in fashion design, while developing her painting. She has shown her work extensively, with solo exhibitions at Texas Christian University, Agora Gallery, New York, and the Dallas Center for Holocaust Studies. She lives and works in Mansfield, TX.
Meetal paints with the logic of a dream. Images rise up from the darkness of the subconscious, to appear like phantoms, morphing together, abstracted, with a wavering insubstantiality. At times the darkness is both visual and emotional, and the viewer has the sense the artist has looked into the unspeakable and allowed it to reveal itself.
Continue reading →