Julie Meetal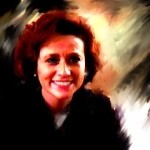 Julie was born in Israel to parents who had emigrated from Hungary. The family moved to the U.S. in 1964. Meetal graduated from the Fashion Institute of Technology in New York and worked in fashion design, while developing her painting. She has shown her work extensively, with solo exhibitions at Texas Christian University, Agora Gallery, New York, and the Dallas Center for Holocaust Studies. She lives and works in Mansfield, TX.
Meetal paints with the logic of a dream. Images rise up from the darkness of the subconscious, to appear like phantoms, morphing together, abstracted, with a wavering insubstantiality. At times the darkness is both visual and emotional, and the viewer has the sense the artist has looked into the unspeakable and allowed it to reveal itself.
From Julie:
The eleven paintings in the series Out of Ashes tell the story of my mother and father's experiences in the Holocaust. They represent not only their experiences but embodies the many untold stories of all those who were lost. In creating this work, I feel that I have become their voice. As a daughter of survivors, I realized that I have a mission to remember what had happened, to educate others, to correct those who would deny the Holocaust, and to warn of the threat of genocide in the present.


The process of creating the paintings constituted a journey that has been spiritual and emotional and most of all healing. The work has been difficult, surprising, and largely intuitive, with many of the paintings emerging unplanned.
The Memorial Wall, part of the Out of Ashes series, began in 2003. I had been asked to travel to Treblinka, the Polish death camp, to design a memorial using fifty head stones that were found in the area. The Nazis destroyed Jewish cemeteries and ordered that the stones be used for paving roads. They hoped to not only annihilate Jews, but to further erase the history of Jewish life in Europe.
My family's background has made me more sensitive to the culture and community that was destroyed in Europe, and after visiting Poland that was even more apparent.
I want to remind the world of what was taken from us and warn younger generations that today's intolerance, fanaticism and hatred can destroy their world as they once destroyed so many. A powerful alert systems must be built not only because we know from bitter experience that the human beings are capable of the worst, as well as the best–of madness as well as genius–and that the unthinkable remains possible.